About Arrow Discovery Travel
'One's destination is never a place, but a new way of seeing things.' – Henry Miller
'Travel is more than the seeing of sights; it is a change that goes on, deep and permanent, in the ideas of living.' – Miriam Beard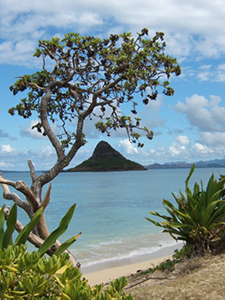 Oahu, Hawaii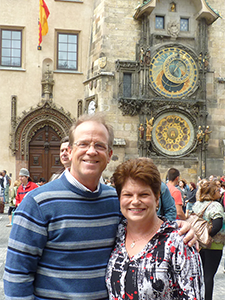 Steve and Janet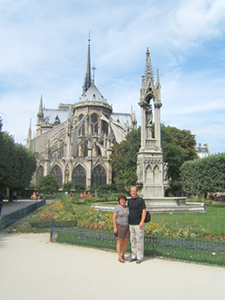 Notre Dame, Paris
My passion is to help others in their own personal journey of discovery, to connect my clients with new people and places that interest them, in the style they are comfortable with. I want to make it as easy as possible for them to focus on the experience they are looking for.
As owner of ARROW DISCOVERY TRAVEL, I have the privilege to work with you, to plan and deliver YOUR travel dreams. Each individual has unique interests and travel preferences. I work closely with you to generate a trip plan that allows for the experience that YOU want to remember for your lifetime.
My goal is to develop long term relationships with my clients, so as you grow in your travel experience, I learn along with you and can apply this knowledge to personalize your future journeys. My clients are my "travel family" and I am fully vested in every client and trip I plan. I aspire to create a vacation that will exceed your expectations.
Knowing that travel experiences are most treasured when they are shared and can be relived with friends and family, I specialize in small group travel. For those who are looking for an intimate cultural experience, I seek out smaller, specialized travel partners who can provide a truly unique experience; i.e. small ship sailing in the Greek Islands or the Caribbean, wine tours in Europe or African Safaris.
For the last few years I have been focusing on Europe, as many of my clients want to experience the rich landscape, art, history (and the food and wine) that are the roots of western civilization. I stay as long as possible in one area, learning the lay of the land, visiting the sites and taking in the culture, so I can share my first hand knowledge. I can never stay long enough because there is so much new for me to discover. In 2020, with the current travel restrictions in place, I am highlighting domestic US destinations and travel styles that offer more physical distancing and enhanced sanitation measures. These travel styles will also be relevant when international travel is more widely available.
ARROW DISCOVERY TRAVEL is here to take the stress and worry from your travel planning. I will help you choose the right cruise line and stateroom for that special anniversary, create an independent itinerary or design a custom small group package with pre-arranged tours and activities. Just leave the planning to me and enjoy your trip!
Janet's story: How the passion for travel began…and continues
I was drawn into travel as a young girl of seven, when my family moved from Pittsburg to Quito, Ecuador. Overnight, I was transported into an exciting adventure of discovery. Everything filled me with wonder, from the majestic mountains, the native people, the unusual animals, the new foods and music, to the language I needed to learn to communicate. We vacationed in Tinalandia, an eco-lodge in the cloud forest and along the way we explored many little towns and villages, all with unique customs and crafts for trade.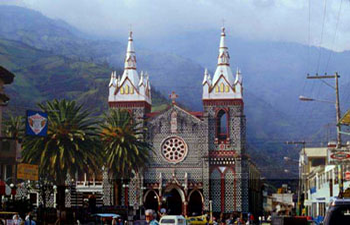 An old Catholic Church in Banos, Ecuador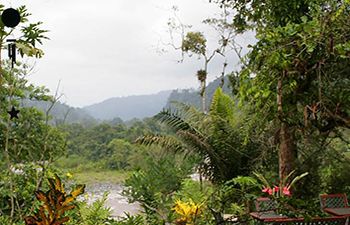 From the dining room at Tinalandia, Ecuador
I_was an adult when my parents took another foreign opportunity and moved to he Dominican Republic. There they introduced me to various Caribbean islands, sailing and diving, which I fell in love with and is why I eventually moved to south Florida.
Once I had a taste of the wonders of our world, travel became a top priority in my life. I have taken every opportunity to explore as much of the world as possible. So far my journey of discovery has take me to Asia, Africa, Hawaii, the South Pacific, Europe and Central and South America; sometimes on business, sometimes for leisure, but always with pleasure. Many of the pictures featured on this website were taken on my travels. I plan to post more as time allows, so please check back often.
About Arrow Discovery Travel:
I founded Arrow Discovery Travel in 2008 when I finally had the opportunity to focus on a travel career. All the experience and training I have accumulated in my life provide a strong background in business and the many aspects of running a travel business. Here are some examples of experiences in my background and how they relate to my travel business and how it all comes together to give you the best travel experience possible.
A B.S. from University of Georgia in Foods and five years in the restaurant business

Appreciation of food and wine – Culinary Tours

Thirty years of management experience in a variety of fields

Wide range of operational and financial business expertise

Ten years as a merchandise buyer for retail and wholesale

Develop relationships with vendors and strong negotiating skills

Ten years in sales and marketing

Strong relationships with clients, learning their needs and providing solutions

Membership in Pi Beta Phi Fraternity for Women -

The "Arrow" in the name and colors in my logo design is a tribute to my membership in Pi Beta Phi Fraternity. The Arrow is our symbol, wine and silver blue are our colors.

Provided lifelong friends and a network of support and personal growth throughout my adult life.
I want to share the sense of wonder and discovery I experience when I travel. I believe that travel is one way to bring the people of the world together - by experiencing other cultures first hand we can find common ground and come to appreciate and celebrate our differences.
I look forward to working with you and helping make your travel dreams come true!
Cheers!
Janet Beazley Scraper