Alaska is bigger than Texas, California and Montana combined. Also known as the Last Frontier, Alaska is one of the last unspoiled and most uninhabited regions of the world. Known for its breathtaking natural beauty and abundant wildlife, Alaska is on almost everyone's "Bucket List."
You will experience the Midnight Sun in the summer and may even see the Northern Lights (Aurora Borealis) between late August and early April. Fairbanks is often cited as the best place to see the northern lights in the United States, but it is possible to see them on dark, clear nights in lower Alaska.
Because of its vast open spaces, variety of terrains, and the diverse activities available, Alaska is an ideal destination for Arrow Discovery Travel to create an itinerary custom-made to serve your particular interests. Contact us to start planning now. You will find many of the extraordinary experiences to be found in Alaska described below.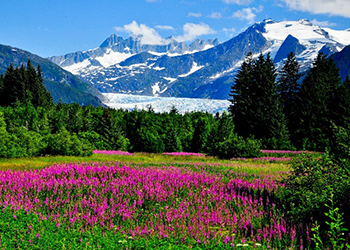 Immense Meadows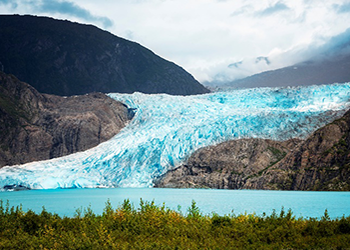 Magnificent Glaciers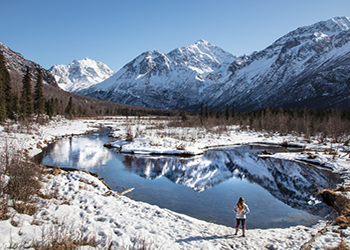 Crystal Clear Lakes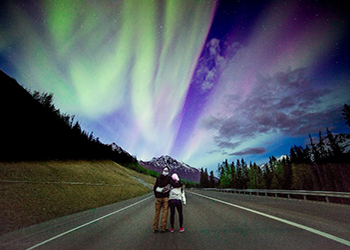 Northern Lights
Abundant Wildlife
Moose
Dall Sheep
Caribou
Bison
Wolves
Black & Brown Bears
Polar Bears
Bald Eagles
Horned Puffins
Orcas
Whales
Seals, Sea Lions, Otters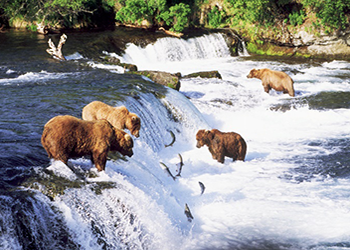 Black & Brown Bears
Dall Sheep
Moose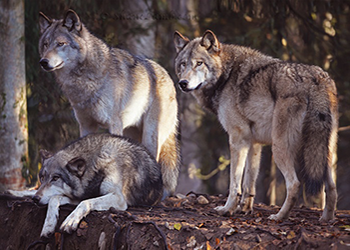 Wolves
Endless Sightseeing and Adventures
Hiking
Biking
Rafting
Kayaking
Mountain climbing
Skiing
Fishing
Snowmobiling
Wildlife viewing
Stargazing
Flightseeing
Skim over the wilderness in a bush plane to reach Redoubt Bay for bear viewing.
View the stunning beauty of the Misty Fjords via floatplane.
Enter the heart of the Alaska Range to view Denali and her sister peaks up close.
Ride a helicopter to a glacier and hike with an expert guide.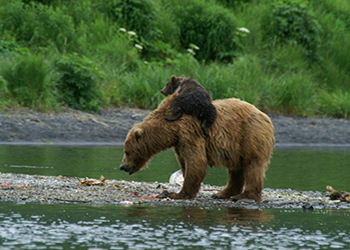 Bear Viewing at Redoubt Bay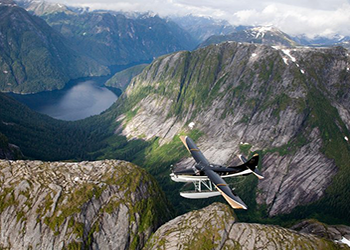 Misty Fjords via Float Plane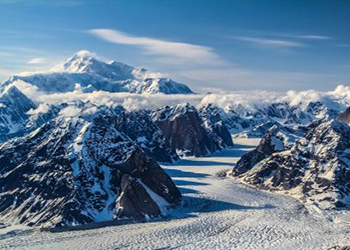 Vast Glaciers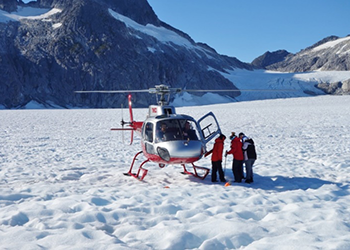 Glacier Exploration
Day_Cruising
Experience a new perspective on Alaska's aquatic wildlife and see whales, orcas, sea lions, and colonies of seabirds. Often you will also see bears, deer, and mountain goats along the shore.
Whales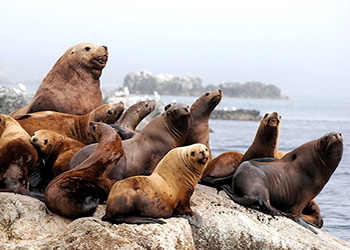 Seals, Sea Lions, Otters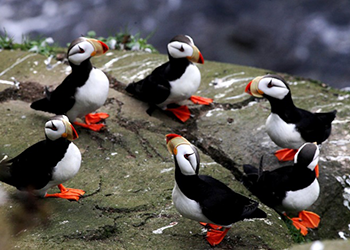 Horned Puffins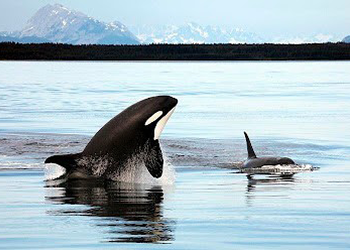 Orcas
Arts, Culture, and 10,000 years of Human History
Learn about native cultures & local traditions.
Visit remote villages & lively cities.
Dine on locally sourced seafood & game.
Taste a handcrafted brew at a local brewpub.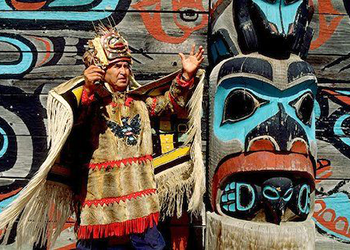 Native Cultures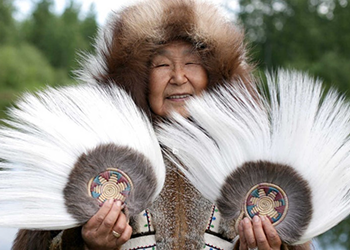 Local Traditions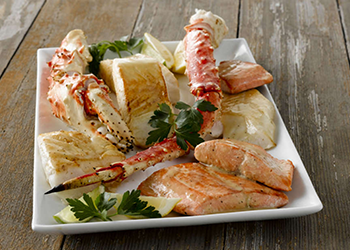 Locally Sourced Seafood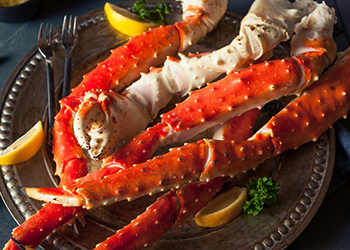 Alaskan King Crab Legs
Fishing – Spectacular freshwater, saltwater, and fly-fishing
Among the 627 species of fish that inhabit Alaskan waters, you will find halibut, rockfish, arctic char, and Dolly Varden and a wide variety of salmon and trout.
With over 3 million lakes, 12,000 rivers, and thousands of streams, the challenge is deciding where and what to catch. Every region of Alaska offers accommodations that cater to the needs of the angler, ranging from rustic camping to all-inclusive luxury lodges and everything in between.
An Alaskan fishing license is required.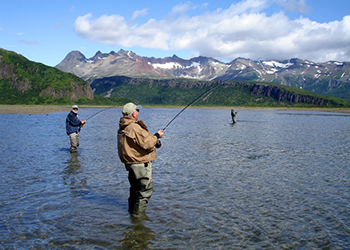 Fly Fishing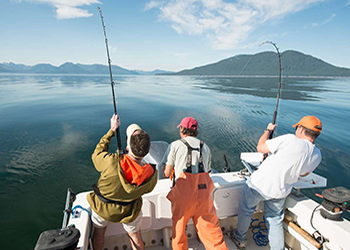 Offshore Fishing
Fresh Halibut
Now that you are wondering where your Parka is, you can start thinking about what modes of transportation will be best to connect you to the different regions of Alaska. You can choose one or more likely, a mix of transportation options.
Transportation
Train – The Alaska Railroad connects many of the most popular spots in Alaska. There are many rail packages that combine the different routes to include a wide variety of authentic Alaskan experiences. You can choose a rail package for your entire trip or travel by rail for one or more segments of your trip.
Motor Coach – There are a series of small bus companies that can get you to most of the highlights. The Alaska Park Connection Motor Coach offers summer service to and between the most popular National Parks.
Drive – You can rent an RV (motorhome) or a car, and drive between all or some destinations. Keep in mind that the distances are vast, so you may elect to just drive some routes where you want the flexibility to stop along the way.
Fly – Often airplanes are the most efficient way to travel between communities. Jet service is available from many cities in Alaska and small regional carriers serve hundreds of other areas. There are some remote wilderness resorts and fishing lodges that can only be reached by air-taxi or small boat.
Accommodations
Alaska offers a wide variety of accommodations. Because of the short tourist season, availability is often limited, so it helps to be flexible with your travel dates and the order of your itinerary.
Hotels & Lodges
Wilderness Lodges
Adventure Lodges
Fishing Lodges
Bear Viewing Lodges
RV Parks and Campgrounds
Remote Wilderness Lodges and Resorts
These properties are in the wild and are exclusive, upscale experiences. Remote does not mean primitive. Some offer the most luxurious accommodations and services in Alaska. Prices are often all-inclusive; the price per night, per person, includes meals and activities. Most lodges include adventure packages, wildlife tours, or fishing packages. There may also be a minimum stay of 2-3 nights. You will get one of the world's finest nature experiences, coupled with five-star amenities. For visitors looking for the ideal balance between luxury and adventure, remote wilderness lodges and resorts will be a perfect fit.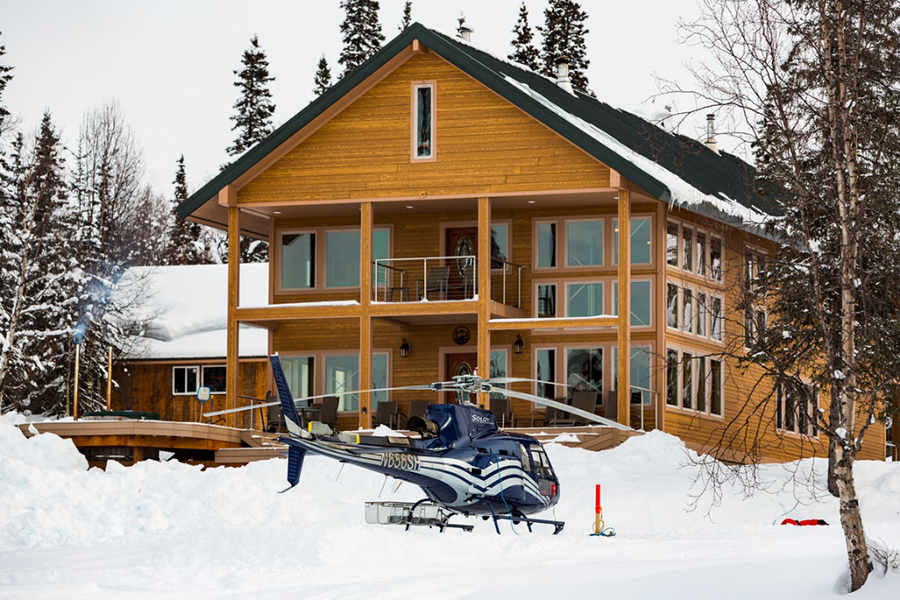 Remote Wilderness Lodges and Resorts
Alaska has so much to offer, it's hard to know where to start when putting together a vacation. Arrow Discovery Travel will work with you to create an experience that exceeds your expectations. Contact Us to get started.