A rail vacation can be a destination in and of itself. For a relaxing and memorable vacation, traveling by rail lets you sit back, enjoy the scenery, and savor the journey. Train travel offers a unique perspective, passing through areas not accessible by car. You have more legroom than in an airplane, you can move around the train and enjoy a selection of dining options. Arrow Discovery Travel will work with you to design your dream rail vacation in the US or worldwide. Contact Us for more information.
Did you know that there are over 500 Amtrak train stations in the USA? You can often board the train right in your hometown! Or you may choose to fly part of the way and take the train to your final destination.
Amtrak Vacations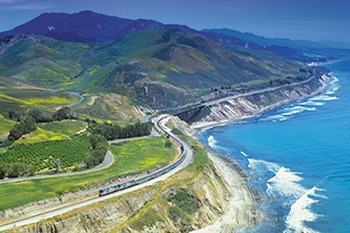 Coast Starlight - LA to Portland
There are dozens of fully customizable rail vacation packages available. You have the freedom and flexibility to choose your departure day, length of trip, add sleeping accommodations on the train, or spend extra time in a city along the way. You can choose from select hotels and local excursions.
There are endless options for rail vacations right here at home - City Escapes, Regional Explorations, or Coast to Coast travel.
US National Parks Some of the most scenic train routes travel to and through the National Parks, providing views only accessible by rail. There are over one hundred National Park packages that combine rail, motorcoach, accommodation in the parks, and sightseeing excursions. Yosemite, Yellowstone, Grand Teton, Glacier Bay, Grand Canyon, Bryce Canyon, Zion, Arches, Canyonlands, and Rocky Mountain National Park are all featured.
Independent Journeys Choose your itinerary and experience North America's gorgeous scenery from the comfort of the train. Hotel stays, activities, dining options, and more, will all be arranged for you.
USA/Canada Itineraries including both US and Canada can be seamlessly combined
Alaska Railroad The Alaska Railroad's main line runs from Seward to Fairbanks, connecting the coast with the interior and the popular Denali National Park. They offer year-round, regularly scheduled passenger service, and many packages include hotels and excursions. There are five trains with 2 classes of service.
Arrow Discovery Travel can create a custom Alaskan travel package to enhance your visit. More on Alaska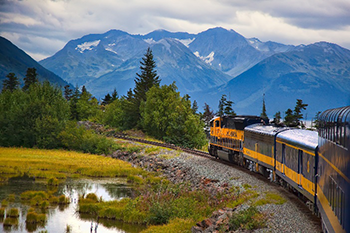 Alaska Railroad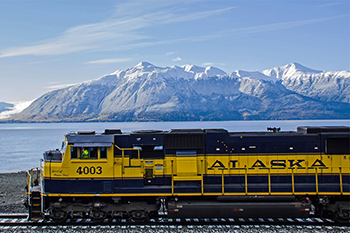 Scenic Alaska
Canada
Canada's Via Rail system can be accessed from a few US stations in the east and west. The main rail line runs from Halifax, Nova Scotia to Toronto, and from Toronto to Vancouver, British Columbia.
The most popular vacation packages are for the Canadian Rockies. These tours may include Calgary, Banff, Jasper, and Vancouver, and you can add Seattle.
Rocky Mountaineer For a truly luxurious rail experience, the Rocky Mountaineer offers daylight only rail travel, with exclusive hotels reserved at night to ensure a restorative rest. They operate from April to October, offer 3 rail routes, and 2 classes of service. Experience the extraordinary scenic views of the Canadian Rockies from the comfort of your glass dome rail car. Enjoy mouthwatering cuisine, designed by top chefs using locally sourced ingredients.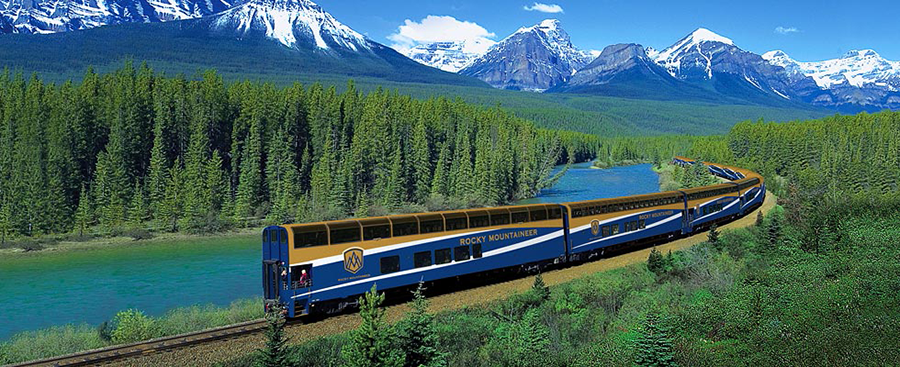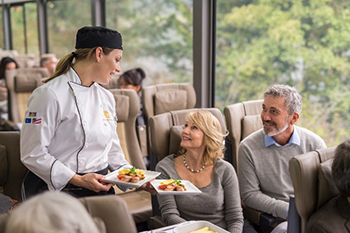 Rocky Mountaineer - Silver Leaf Service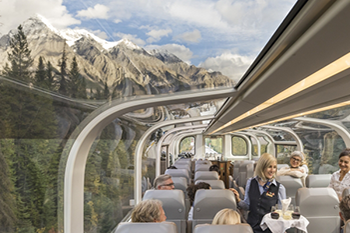 Gold Leaf service features Glass Dome
Europe & Beyond
Europe is well known for its extensive rail network, connecting over 30 countries train systems. There are dozens of packaged rail vacations available, or you can customize your itinerary. Rail travel is often the easiest way to travel around Europe. Arrow Discovery Travel will create a personalized vacation experience for you, with rail as your main transportation between destinations.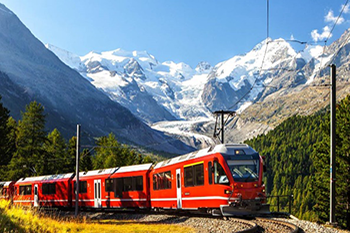 Switzerland by Rail
Japan
There are rail vacation packages available in 21 other countries beyond the US, Canada and Europe. Ready to roll? Contact Us to plan your ideal Rail Vacation.