If you love warm tropical climates, diverse natural beauty, and a wide selection of activities to enjoy, Hawaii is a state you will want to visit again and again. With so many islands and activities to choose from, Arrow Discovery Travel will design a custom Hawaiian itinerary for you. Below you will find an overview of the Hawaiian Islands and a description of the unique features of each island. Contact us to start planning your adventure in paradise.
Located in the Pacific Ocean, about 2500 miles west of California, Hawaii is the only U.S. state located outside of North America. Born from a volcanic hotspot rising from the ocean floor, the Hawaiian archipelago consists of 137 islands spread over 1500 miles and is the most isolated population center on earth.
This unique history of formation and isolation has given rise to breathtaking and extraordinary wonders.
This beauty captivates the hearts of those who visit as well as those who call this beautiful place home. A special culture has evolved from the unique natural environment of these islands. Native Hawaiians are the host culture here, and the values of Aloha have laid the foundation for the Hawaii we have today. Since the 1700s, peoples of various cultures have been arriving on these shores, bringing their foods, their music, and their ways of life.
Together, the main Hawaiian Islands — Hawaii, Maui, Molokai, Oahu, Kauai, Kaho'olawe, Lanai, and Ni'ihau — are home to virtually every geographic formation, terrain, and climate to be found on earth, and the possibilities for outdoor enthusiasts are boundless. There are lava deserts on the Big Island and highland rainforests on Kauai; on Molokai, you'll find the world's tallest sea cliffs and miles of pristine beaches.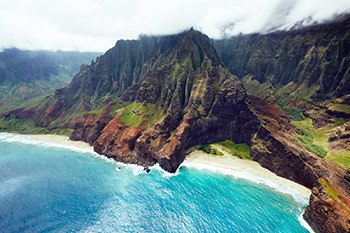 Honopu Valley Kauai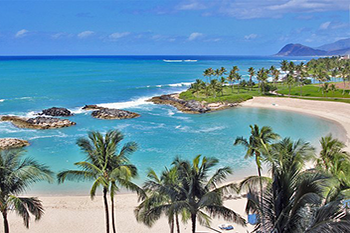 Hawaii Honolulu Beaches Oahu Ko Olina
Climate
The Hawaiian Islands are generally drier on the western, or leeward side, and wetter on the eastern, or windward side. Hawaii's tropical latitude gives it little difference in year-round day length and the amount of sun, even in the winter. But because the Islands' terrain varies in altitude in certain spots, temperatures can vary. The average annual temperature is 75 degrees Fahrenheit and fluctuates only a few degrees from the drier summer season (May through October) to the wetter winter season (November through April). This makes Hawaii a popular destination year round.
Visiting Hawaii
There are 4 major and 2 minor islands to visit in Hawaii: Oahu, Maui, Kauai, Molokai, Lanai, and the island of Hawaii, often referred to as the Big Island. Each has a distinct personality, unique adventures, activities, and sights. Many visitors opt to visit two or more islands during their vacation.
Arrow Discovery Travel can help you decide which island to start with or which islands to combine to create the perfect custom package for you, including intra-island transportation, accommodations, and activities. Contact Us for more information.
The Hawaiian Lei Tradition
The lei custom was introduced to the Hawaiians by early Polynesian voyagers. Leis were constructed of flowers, leaves, shells, seeds, nuts, feathers, and even animal bones and teeth. They were worn by ancient Hawaiians to beautify themselves or to distinguish themselves from others. With the advent of tourism in Hawaii, the lei became a symbol of Aloha or welcome. Lei giving is a regular part of any special occasion and should be welcomed as a symbol of affection. Therefore, it is not proper to refuse a lei or take it off in the presence of the giver (however you should make sure they are gifting, not selling you, first). There doesn't have to be an occasion to wear a lei and it is perfectly fine to purchase or make one for yourself. The proper way to wear a lei is gently draped over the shoulders, hanging down both in front and back.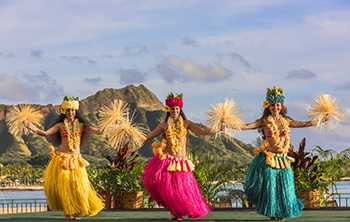 Royal Hawaiian Luau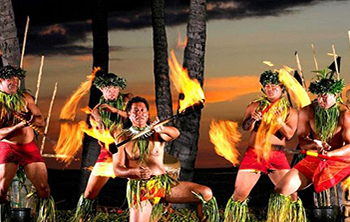 Fire Dancers
Luau
Attending a luau is an event that everyone should experience while in Hawaii. There are many options for Luaus on Oahu, Maui, Kauai, and the Big Island. Arrow Discovery Travel will help you select which one you would enjoy the most.
A luau is a Polynesian and ancient Hawaiian celebration feast once called a "gathering meal" and is held in any open outdoor space. It was used to unite the people of a town to celebrate a significant life event, an achievement, war victory, or the launching of a new canoe. The word luau, meaning "taro plant", is named after one of the most popular dishes served; chicken and taro plant leaves baked in coconut milk. A contemporary luau in Hawaii reflects their multi-cultural society and often includes dances and music from other Polynesian cultures. Hawaiian families still celebrate special occasions with a luau.
Popular Luau Dishes
Poi:

Pounded taro plant root; a starch meant to be eaten with everything.
Kalua Pig:

Pork prepared in an imu (underground oven) and shredded.
Laulau:

Meat wrapped in luau (taro) leaves and steamed, traditionally prepared in an imu.
Haupia:

Coconut pudding.
Poke:

A term that means to cut into pieces. This newly global delicacy is traditionally prepared with raw fish, shoyu (soy sauce), green onions, kukui nut (candlenut), and limu (seaweed).
Traditionally, the celebration starts with an imu ceremony, when the organizers remove the layers of leaves and cloth from the underground oven to expose the cooked pork. Dinner is usually a buffet with seating at large, shared tables. After dinner, the Polynesian dancing show begins with costumes, music, and dancing from all the major Polynesian island cultures. The grand finale often features a Samoan Fireknife dancer.
Weather effects on Water sports, Beaches and Whale Watching
During the winter months, powerful storms to the north drive a high surf and huge swells at many north and west shore beaches.
November to February provides the best conditions for surfing. The North Shore of Oahu is famous for its surf competitions.
December through May is the best time for humpback whale watching. Although humpback whales can be seen from all of the Hawaiian Islands, the shallow Auau Channel between Maui, Molokai, and Lanai is one of the best whale-watching destinations in the world.
While swimming and snorkeling are possible year-round, the most ideal conditions are from May through September, when the water is warmer, the waves are smaller, and the skies are sunnier.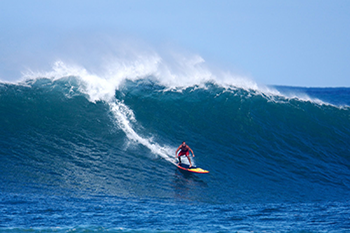 Hawaii Wave Surfer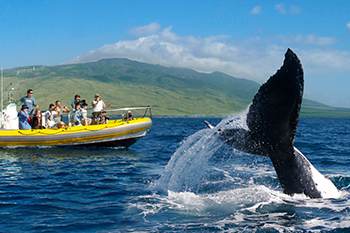 Maui Whale Watching Tour
Water Sports
With clear, warm ocean waters ranging from 76-81 degrees Fahrenheit, and an abundance of sea life, visitors can't resist getting in the water. Almost every water sport and activity is available on all the main islands.
Swimming
Surfing
Snorkeling & Scuba Diving
Whale Watching
Sports Fishing
Sailing
Parasailing
Outrigger Canoeing
Kayaking
Wind/Kite Surfing
Body Surfing
Paddle Boarding
Land Activities
Hiking
Hiking in the Hawaiian Islands offers residents and visitors many opportunities to experience a unique natural environment. Known throughout the world for a wide variety of ecosystems, trails in Hawaii can take you to coastal dunes, shrublands, rainforests, and high alpine deserts. There are many State and National Parks with marked trails. Always hike with a partner and show respect for the land. Leave only footprints.
More Land Activities - Almost every island offers
Golf
Horseback Riding
Beautiful Gardens
Cultural & Historical Sites and Museums
Helicopter Tours
Island Tours
ATV Excursions
Bicycling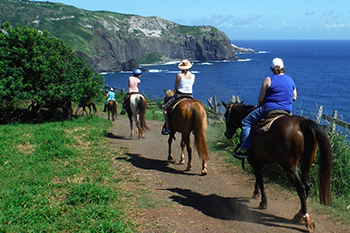 Mendes Ranch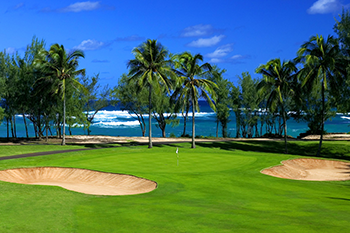 Golf Courses For Women, Turtle Bay
A_Brief Overview of each Hawaiian Island
Oahu
Geography
Oahu is separated into 5 main areas: Honolulu, the North Shore, the Windward Coast, Central Oahu, and the Leeward Coast. Note that world-famous Waikiki is a neighborhood located in greater Honolulu.
Oahu occupies 597 square miles and is the third largest of the six Islands of Aloha, lying between Kauai and Maui. Oahu is 44 miles long and 30 miles wide with 227 miles of shoreline. There are 2 inactive shield volcanoes, the Waianae Range on the west and the Koolau Range on the east. Over a hundred ridges extend from the spines of each range creating beautiful valleys and stunning mountain vistas.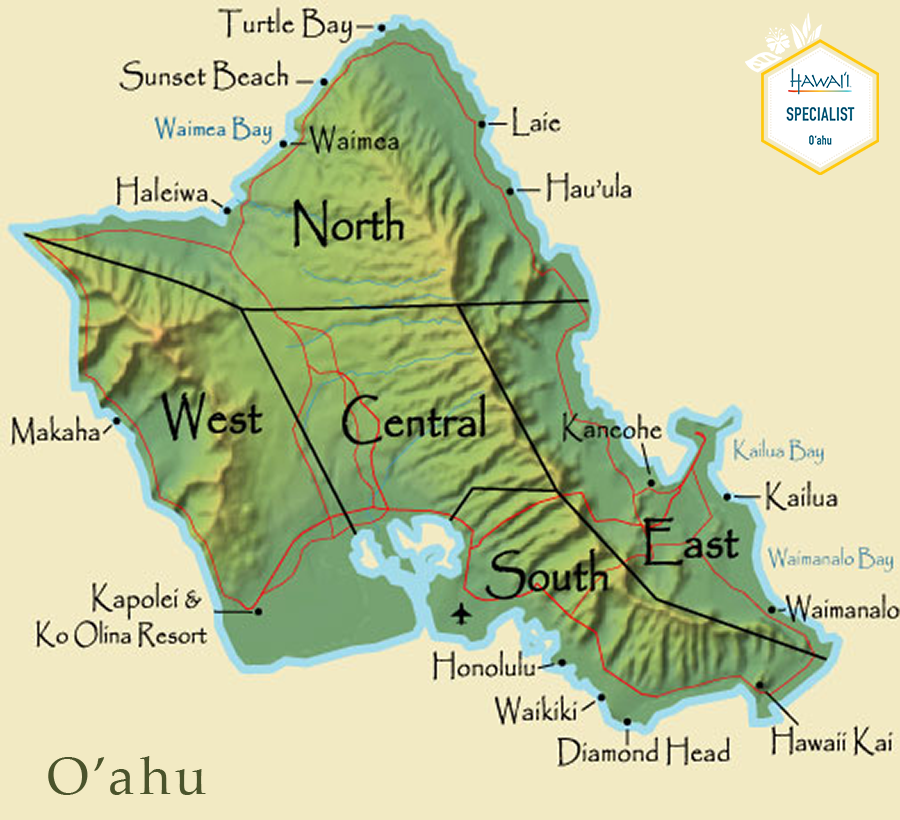 Oahu
As the cultural heart of the Hawaiian Islands, Oahu is the most visited island. Home to Honolulu, Waikiki Beach, Diamond Head, Pearl Harbor, and the North Shore, known for the big waves in winter, Oahu is an island of contrasts. From bustling city life to laidback surf towns to inland plantations, you'll find a wide variety of activities to enjoy. There is much more to Oahu than Waikiki Beach! Below we have listed a very small sampling of things to do in Oahu.
Beaches
Oahu's 125+ beaches are a true taste of paradise—whether you're looking for high adventure on the sea, gentle waves for your first surfing lesson, a romantic sunset view, or a family-friendly swimming spot. A few of the most popular are:
Waikiki Beach (southwest)
Hanauma Bay(southeast)
Lanikai Beach (east)
Kailua Beach (east)
Waimea Bay (north)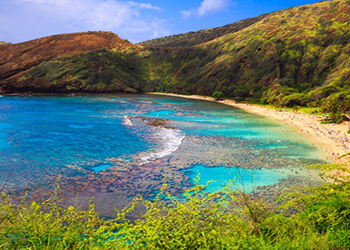 Hanauma Bay, Oahu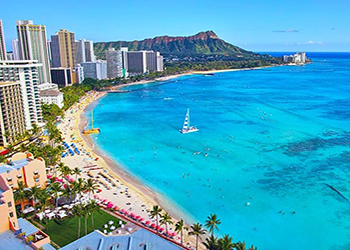 Waikiki Beach, Oahu
Popular Sights & Activities
Kualoa Ranch
Waimea Valley
Haleiwa town on North Shore
Dole Plantation
Hiking
Diamond Head
Makapuu Lighthouse Trail
Kaena Point
Manoa Valley
Aiera Loop Trail
Gardens
Hoomaluhia Botanical Garden
Waimea Valley Arboretum & Gardens
Foster Botanical Garden
Culture/History - Oahu was the home of the Hawaiian monarchy, the birthplace of modern and big-wave surfing, the stage for the overthrow of the Hawaiian kingdom, and the tipping point that led to the United States' involvement in World War II. A visit to Oahu is not complete until you visit:
Pearl Harbor National Memorial
Polynesian Cultural Center
Iolani Palace
Bishop's Museum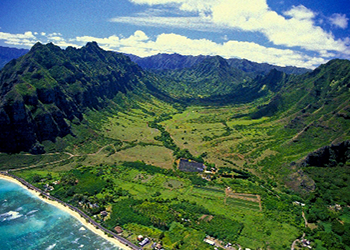 Ka'a'awa Valley, Oahu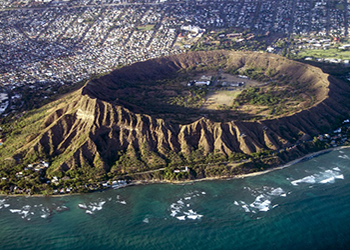 Diamond Head Crater, Oahu
Maui
Geography
Maui is separated into 5 distinct regions: West Maui, South Maui, Central Maui, Upcountry Maui, and East Maui. Most Maui resorts can be found in sunny West Maui and South Maui while you can find the lush drive to Hana in East Maui. Haleakala volcano dominates the southeastern region of Maui with a crater 3,000 feet deep and 21 miles around.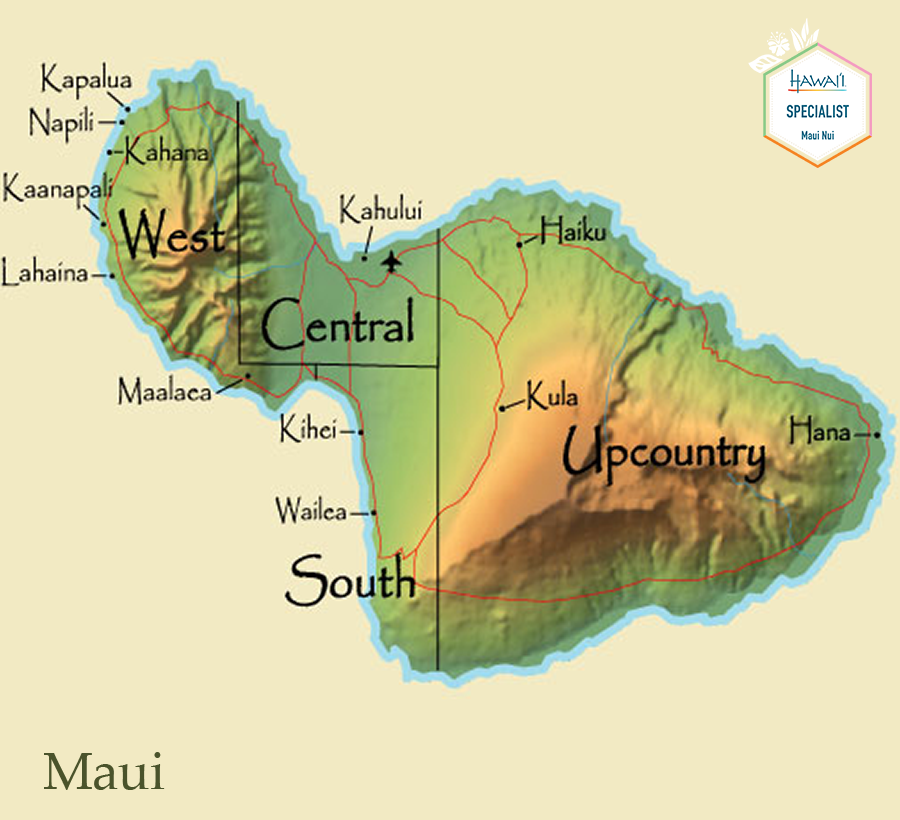 Maui
Maui, known also as "The Valley Isle," is the second largest Hawaiian island. The island beloved for its world-famous beaches, the sacred Iao Valley, views of migrating humpback whales (during winter months), farm-to-table cuisine, and the magnificent sunrise and sunset from Haleakala. It's not surprising Maui has been voted "Best Island in the U.S." by Condé Nast Traveler readers for more than 20 years.
Beaches
With 120 miles of coastline, Maui boasts over 30 miles of beautiful beaches. On these world-famous shores, you'll find white, black and red sand beaches, renowned surfing and windsurfing spots as well as some of the best beaches in the world to simply swim, snorkel and sunbathe. Many are easily accessible beach parks with lifeguards, picnic facilities and restrooms. Others are undeveloped, "secret spots" found off the beaten path. Some of the most popular:
Ka'anapali Beach - Maui's "signature" beach offers 3 miles of white sand. Easy walking from all Kaanapali hotels. Puu Kekaa, also known as Black Rock, is on the northernmost section of the beach and has excellent snorkeling. Other popular beaches include:
Napili Bay (west)
Kapalua Bay (west)
Keawakapu Beach (south)
Makena Beach, also known as Big Beach (south)
La Perouse Bay (south)
Baldwin Beach (north) has a section named Baby Beach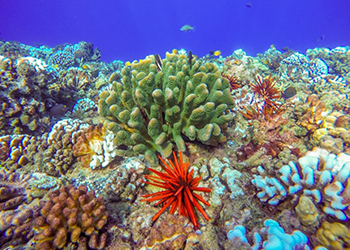 Snorkel Molokini Crater, Maui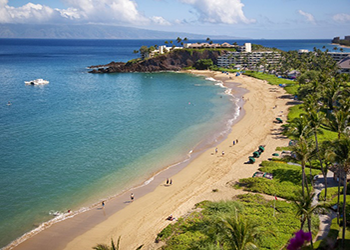 Ka'anapali Beach, Maui
Popular Sights & Activities
Ziplining
Jungle Tours
Lavender Farm
Maui Tropical Plantation
Haiku Mill & Gardens
Kula Botanical Garden
Maui is popular for snorkeling and scuba diving. There are many dive shops on Maui that offer diving and snorkeling trips to the best local sites. Most of the resort beaches along the west and south offer opportunities for snorkelers.
The small island of Molokini, off the southwestern coast, is full of colorful reefs, fish, and sea turtles. Molokini is a State Marine Life and Bird Conservation District., It is a very popular destination for snorkeling and scuba diving and is only accessible by boat tour.
Hiking - Iao Valley State Park Haleakala National Park
Biking - Bike down the Haleakala with guided or self-guided tours
The Road to Hana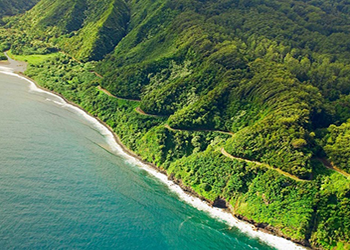 The Road to Hana
Rewards of the Road
This_scenic drive is the undisputed top attraction on Maui. It's all about the journey, not the destination. The road is a 52 mile- long stretch of Hawaii state routes 36 and 360 that connects Kahului in the north to Hana in the east. There are 620 curves and 59 bridges (46 are one-lane) and can take over 3 hours to drive one-way, with no stops. It can take a toll on one's nerves, and has caused quite a few arguments along the way, which is why it has taken on the nickname "Divorce Highway". The drive is very much worth it though and offers many scenic views of Maui's northern coastline, rainforests, black-sand beaches, waterfalls, and lush, tropical vegetation. The Road to Hana is listed on the National Register of Historic Places. Hana itself is a sleepy little town. There is a luxurious hotel, the Travaasa Hana, an art gallery, some small shops, eateries, and road stands.
There are over two dozen scenic outlooks and unique side trips to make along the way, so if you drive yourself, and don't want to miss anything, consider spending the night in Hana. You can go back the way you came, or you can continue in a clockwise direction to get back to the west side. Beware, however, that the southern road is not well maintained or completely paved and there are significant sections of very bumpy road and "edge of the cliff" moments. If you have problems with your rental car in this area, you are on your own.
If you'd rather sit back, relax, see the highlights and let someone else drive, there are tours available that will pick up from most major locations and stop at all the best places along the way.
Molokai and Lanai
Molokai and Lanai are Hawaii's smallest inhabited islands and are located near Maui. There is only one hotel in Molokai and two in Lanai. There are, however, condos for rent on both islands. Ferry service between Maui and the two islands stopped in 2016. Now you can only get to the islands by air or private boat.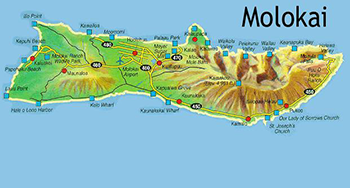 Molokai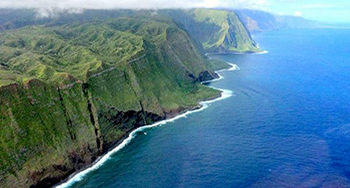 Molokai Sea Cliffs
Molokai is home to the highest sea cliffs in the world and the longest continuous fringing reef. It is located in the center of the Hawaiian Island chain and is just 25 miles southeast of Oahu, eight miles away from Maui.
Two volcanoes formed Molokai: Maunaloa on the West End and Kamakou to the east. Eastern Molokai features largely inaccessible mountains and sea cliffs. You can take a helicopter tour from Maui to see the magnificent sea cliffs and waterfalls of Molokai's rugged north shore.
Molokai remains true to its island roots, with a high percentage of its population being of Native Hawaiian ancestry who continue to preserve their rural lifestyle thanks to their love of the land. You won't find any resorts, golf courses, or high-end dining. Molokai is a place where aloha is a lifestyle, not something put on for the tourists.
Beaches
Molokai has 106 miles of coastline, but comparatively fewer beaches than most of the other Hawaiian islands. The beaches that are more suitable for swimming and snorkeling are located on the east side; the west side has some beautiful beaches for sunbathing, exploring and photography.
East - Kumini Beach (Murphy's Beach) Sandy Beach Halawa Beach Park Waialua Beach
West – Papohaku Beach Park Paka'a Beach Kephui Beach
Lanai
Lanai plateaus in its center creating cooler temperatures in Lanai City and the island's highest point Lanaihale. From different locations, you can get clear views of the neighboring islands of Maui, Molokai, Kahoolawe, and, from higher elevations, even Oahu and Hawaii Island.
Lanai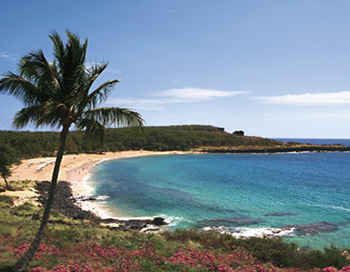 Hulopoe Beach
Once called the Pineapple Island, you can still see the open fields where pineapple once grew in the plains of the Palawai Basin. And with only 30 miles of paved roads, many of Lanai's natural attractions in North Lanai can only be reached with a 4-wheel drive on rocky, unpaved roads.
With 47 miles of coastline, only the southern coast of Hulopoe Bay offers an easily accessible beach.
Hulopoe Beach is a sweeping crescent-shaped beach and is the only easily accessible beach on Lanai. It is located on the south shore of the island, fronting the Four Seasons Resort Lanai. There are large tide pools to explore and the clear water makes for fantastic snorkeling.
Polihua Beach on the north shore can be reached via an hour 4x4 drive adventure from Lanai City. There you will find two miles of pristine and often empty coast. This beach is perfect for sunbathing or beachcombing, but strong winds and currents make the ocean too dangerous for swimming.
One of the most appealing reason for visiting Lanai is to get some privacy and peace. Lanai is largely uninhabited, with most of the residents concentrated in Lanai City. Most of the times the only sounds you hear are the blowing wind, soft waves, and the occasional bird song. There are two luxurious Four Seasons resorts on the island, where you can be pampered in the spa, play golf and dine on fine cuisine.
Kauai
Geography
Kauai, Hawaii's fourth largest and northernmost island, is separated into five main regions: Lihue, the East Side (Coconut Coast), the North Shore, the South Shore, and the West Side.
Occupying 552 square miles, Kauai is circular, with lush, mountainous regions in its center and beaches covering almost half its shoreline. Kauai's age makes it one of the most scenic islands in Hawaii from the 3,000-foot elevations of Waimea Canyon to the waterfalls and deep gorges of 5,148-foot Mount Waialeale in the uninhabited center of Kauai, which you can only view by air.
Kauai
Kauai is sometimes called the "Garden Island," which is an entirely accurate description. Kauai is draped in emerald valleys, sharp mountain spires and jagged cliffs aged by time and the elements. Centuries of growth have formed tropical rainforests, forking rivers, and cascading waterfalls! Some parts of Kauai are only accessible by sea or air, revealing views beyond your imagination.
Kauai's most striking geographic feature is the Na'pali Coast, which rivals any of the world's grandest coastlines. The Na'pali Coast's 17-mile coastline took millions of years to form from wind and water erosion. The results are cliffs thousands of feet high, complete with green valleys, towering waterfalls,, and hidden sea caves.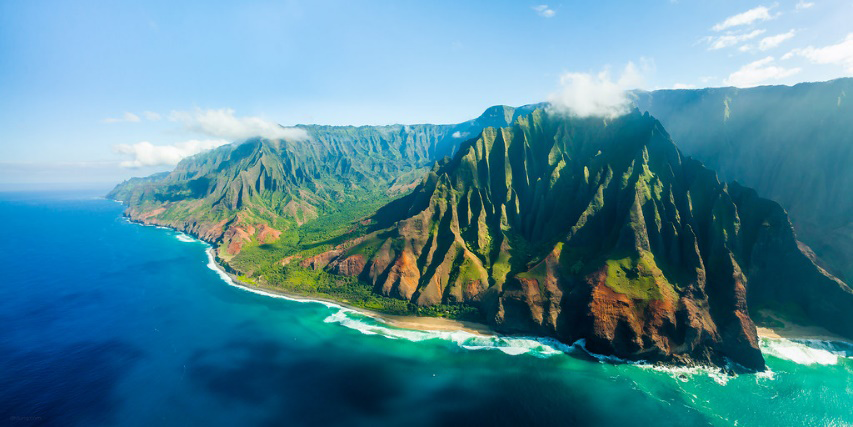 Na'pali Coast
These breathtaking cliffs can only be seen from the sea, by air or by hiking the Kalalau Trail. Sailing along the Na'pali coast is not to be missed! Several companies offer snorkeling trips, sunset cruises, and dinner cruises.
Beaches
50 miles of shimmering white sand beaches with beautiful unspoiled views. Kauai's beaches and oceans are graced with abundant marine life. Some of the top beaches are:
Hanalei Bay (north)
Tunnels Beach (north)
Kee Beach (north)
Poipu Beach (south)
Baby Beach (south)
Kiahuna Beach (south)
Mahaulepu Beach (south)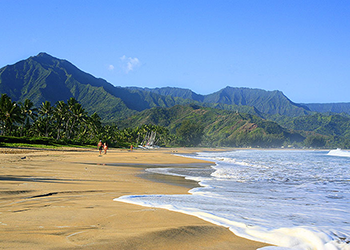 Hanalei Bay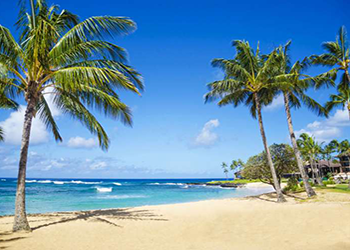 Poipu Beach
Popular Sights & Activities
As 90% of Kauai is inaccessible by car, hiking tours, air tours, and coastal cruises are very popular.
Most beautiful Hikes:
Hanakapiai Falls
Kalalau Trail
Waimea Canyon
Wailua Falls
Kalalau Lookout
Kokee State Park
Other ways to see the island include:
Ziplining
Kipu Ranch ATV Adventures
Princeville Ranch Adventures
Fern Grotto boating
Kayak the Wailua River
Places of interest:
Kilohana Plantation
Na Aina Kai Botanical Gardens
McBryde & Allerton Gardens
Ho'opulapula Haraguchi Rice Mill
Kauai Museum
Lydgate Farms
Silver Falls Ranch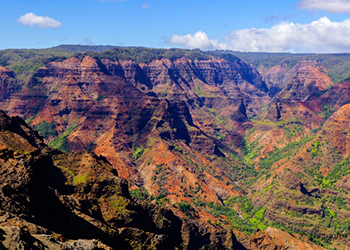 Waimea Canyon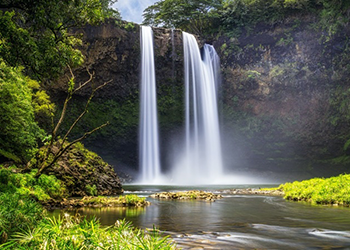 Wailua Falls
Island of Hawaii – The Big Island
Geography
The Big Island, is the largest in the Hawaiian chain with climatic contrasts across its 6 main regions: the Hamakua Coast, Hilo, Puna, Kau, Kona, and Kohala. The island is 4,028 sq. miles, which is so big that the other Hawaiian Islands could fit on it nearly twice. Yet the island of Hawaii is the youngest in the Hawaiian chain, a mere 800,000 years old.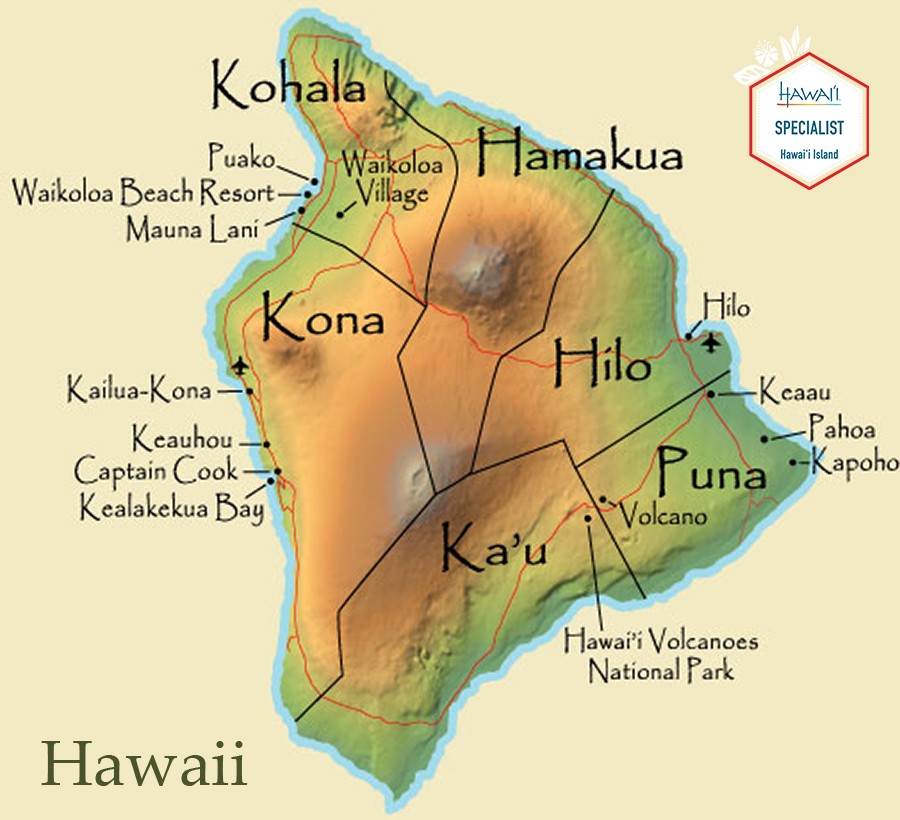 Island of Hawaii – The Big Island
The island is home to Maunakea which is the tallest sea mountain in the world, with a summit that stands 13,796 feet above sea level and rises over 32,000 feet from its base on the ocean floor, making it taller than Mt. Everest. Maunaloa is the most massive mountain in the world, covering half the island. But the island of Hawaii is most famous for Kilauea in Hawaii Volcanoes National Park, one of the world's most active volcanoes, erupting continuously since 1983.
The lush east-side town of Hilo gets more than 130 inches of rain annually, while the Kohala Coast usually gets less than ten inches per year. Ranging from the fern forests of Puna and the cool, misty breezes of Waimea, to the sunny lava plains of Kona and the dry heat of Kau, the island of Hawaii is a place of stunningly distinct environments.
Beaches
The Big Islands beaches are concentrated along the northwest coast in the Kohala region. As the youngest Hawaiian island, the beaches are smaller than its neighbors, not having had the time to develop. Some of the most beautiful beaches are not easily accessible and require a 15-30 minute hike to get there. You will find black sand, green sand, gold sand, and white sand beaches in Hawaii.
The Big Island has the best snorkeling in Hawaii because the water off the Kona coast tends to be very clear. Favorite snorkeling locations include Honaunau Bay, Kealakekua Bay, Kahaluu beach park, Maikaiwa Bay, and the Kapoho tide pools.
Kohala area white sand beaches
Hapuna
Mauna Kea
Maniniowali Beach
Spencer Beach
Makalawena Beach (20 min hike)
Other beaches of interest
Punaluu Black Sand Beach – A great place to see green sea turtles basking on the shore, South Kau, 30 miles south of Volcano National Park
Papakolea Beach - green sand, South Kau
Honaunau Beach – great snorkeling, diver's paradise, Kona
Wailea Bay - white sand, good snorkeling in summer, Kohala
The Big Island is also known for its
The Green Seat Turtles Manta Rays Deep Sea Game Fish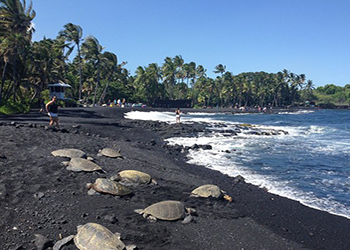 Punaluu Black Sand Beach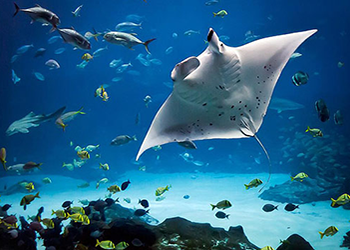 Manta Ray
Snorkeling and Scuba
The The island of Hawaii and its clear blue waters are truly a snorkeling and scuba paradise. The island's east side has a handful of spots for beginning snorkelers and scuba divers including Hilo's Leleiwi Beach and Richardson Beach Park. But the Kona side is even more famous for its visibility and calm waters, protected from the winds by the massive slopes of Maunaloa.
The One of the most memorable experiences you can have on the island of Hawaii is a swim with manta rays. Book a sunset dive tour and head out to the Kona or Keauhou coast to either scuba dive or snorkel with these gentle mantas (mantas don't have stingers like stingrays or eagle rays).
For serious snorkeling, it's best to take a boat charter or travel with a local guide, somebody who knows the best spots and who can read changing weather patterns. For scuba divers, you can take an introductory "resort course" for beginners or most dive shops offer certification courses for more advanced dives. Some of Hawaii's best snorkeling and scuba diving can be found on the island of Hawaii.
Stargazing
Maunakea is home to the largest astronomical observatory on the planet, where massive telescopes are watching the heavens and making discoveries beyond our imagination.
Here, on the tallest sea mountain in the world, scientists and visitors alike are treated to a show few have experienced. Thanks to the clear air and minimal light pollution at this elevation, the stars can light the sky like glitter. Guided stargazing tours provide transportation, warm parkas, and access to the summit. For those who want to venture on their own, the Maunakea Visitor Information Station offers free stargazing programs throughout the year.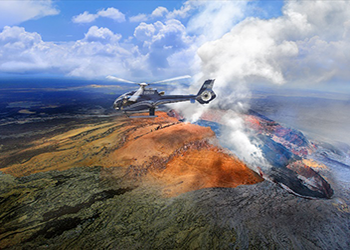 Volcanoes National Park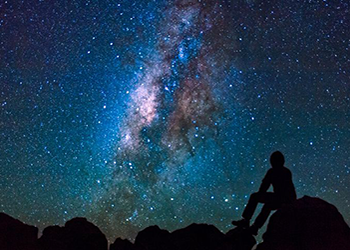 Stargazing on Maunakea
Hawaii Volcanoes National Park – 2+ hour drive one way from Kailua-Kona
Experience some of nature's most awe-inspiring wonders at Hawaii Volcanoes National Park. Located 45 miles southwest of Hilo, the park is home to two volcanoes including Kilauea, one of the most active volcanoes on earth. The chance to witness the primal process of creation and destruction makes it one of the most popular visitor attractions in Hawaii and a sacred place.
Hawaii Volcanoes National Park encompasses 335,259 acres or about 523 square miles from the summit of Maunaloa to the sea (by comparison, the island of Oahu is 597 square miles). Discover 150 miles of hiking trails through volcanic craters, scalded deserts, and rainforests, as well as a visitor center, petroglyphs, and two active volcanoes: Maunaloa, which last erupted in 1984 ,and Kilauea which last erupted in 2018 (1983-2018). Lava is not always flowing, but when it is, a Helicopter Tour is your best opportunity to see lava. The extraordinary natural diversity of the park was recognized in 1980 when it was named a World Biosphere Site by UNESCO and in 1987 when the park was honored as a World Heritage Site.
Arrow Discovery Travel will create a custom Hawaiian itinerary just for you. Contact Us to get started.